HCM City plans to expand its trial programme to classify solid waste before treatment to all 24 districts by next year.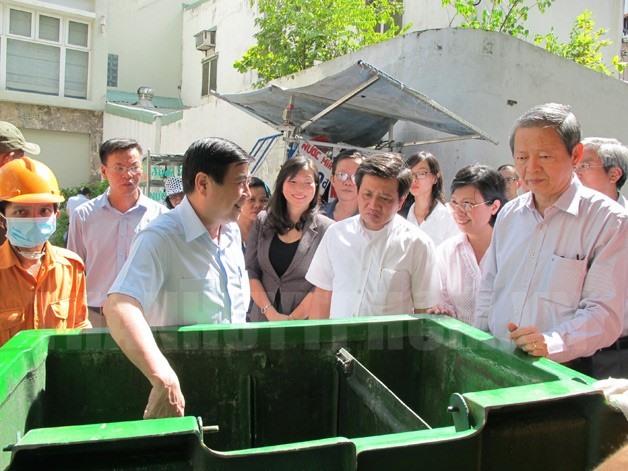 Nguyễn Thanh Phong, chairman of the HCM City People's Committee, and District 1 officials check implementation of solid-waste classification at Bến Nghé Ward last month. — Photo www.hcmcpv.org.vn
The classification makes collection and treatment of garbage easier, reduces the cost of treatment and enables recycling of many items.
According to the city's Department of Natural Resources and Environment, 7,000-8,000 tonnes of waste are generated daily, and around 75 per cent of this is buried underground instead of being appropriately classified and treated.
Nguyễn Toàn Thắng, director of the department, said the classification at source would help recycle 60 per cent of the waste, reducing pollution risks from landfills and treatment costs.
Last month city's People's Committee chairman Nguyễn Thanh Phong and other officials checked the waste classification programme in District 1.
It was first introduced in Alley 25, Nguyễn Bỉnh Khiêm Street, in 2013.
It was expanded to places on Lê Duẩn, Nguyễn Bỉnh Khiêm, Nguyễn Thị Minh Khai and Đinh Tiên Hoàng streets in 2015.
Trịnh Văn Mỹ, head of Group 1 in Quarter 1, Bến Nghé Ward, said every household in Alley 25 classifies waste, with 70 per cent doing it efficiently.
After classifying, the residents identify each type of garbage to make it easy for the collectors.
District 1 authorities organised a tour for residents to the solid-waste treatment facility at the Phước Hiệp Waste Treatment Complex in Củ Chi District to raise their awareness of waste classification.
Đoàn Ngọc Hải, deputy chairman of the district People's Committee, said the district plans to expand the pilot programme to government offices, schools, bus stations, entertainment areas, parks, shopping malls and business centres this year.
Phong hailed District 1 authorities and residents for carrying out the pilot programme efficiently. He called on other districts to learn from District 1's experience and begin sorting solid waste at source. — VNS